The Denny Creek area is full of gorgeous Rocky Mountain views and is a great place for snowshoeing in wintertime. Located less than 30 minutes from downtown Buena Vista, this trail is easy to access.
The Denny Creek Trailhead is a favorite mountain getaway for both Buena Vista locals and visitors. One of the best parts about this trail is that it's less than 30 minutes from downtown BV, making it easy to access even on days when you only have a few hours to play outside.
In summer, a lot of hikers will start at Denny Creek to peak Mount Yale, or they're start at Denny to complete a moderate day hike to Lake Hartenstein. You can also use this trailhead to hike up Browns Pass (which eventually will lead you to Kroenke Lake).
We went up the Denny Creek trail this past Friday to explore the conditions and found a lot of awesome snow and enjoyed the warm weather. The first two miles on the trail has packed snow and is only slushy in a few areas. Once you pass the two mile point, the snow gets a lot deeper (and you will definitely sink unless you have snowshoes on!).
How To Get To There
From the traffic light in Buena Vista, go west for about 12 miles on Main Street (which turns into County Road 306) and travel until you see the Denny Creek Trailhead.
The main parking area is on the right side, to the right of the Denny Creek sign.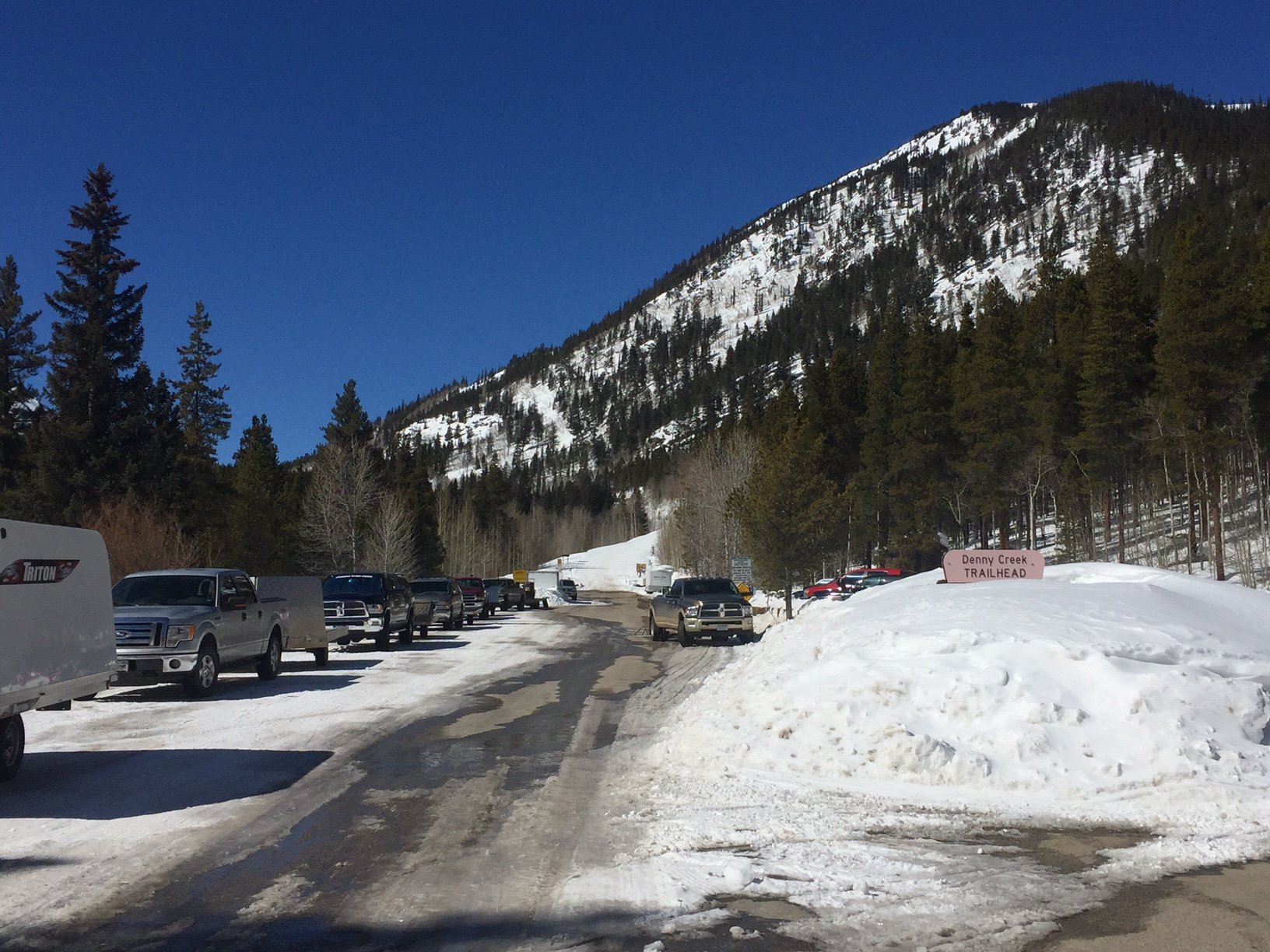 If the lot is full, you can park along the side of the road like many of the those with snowmobile trailers do.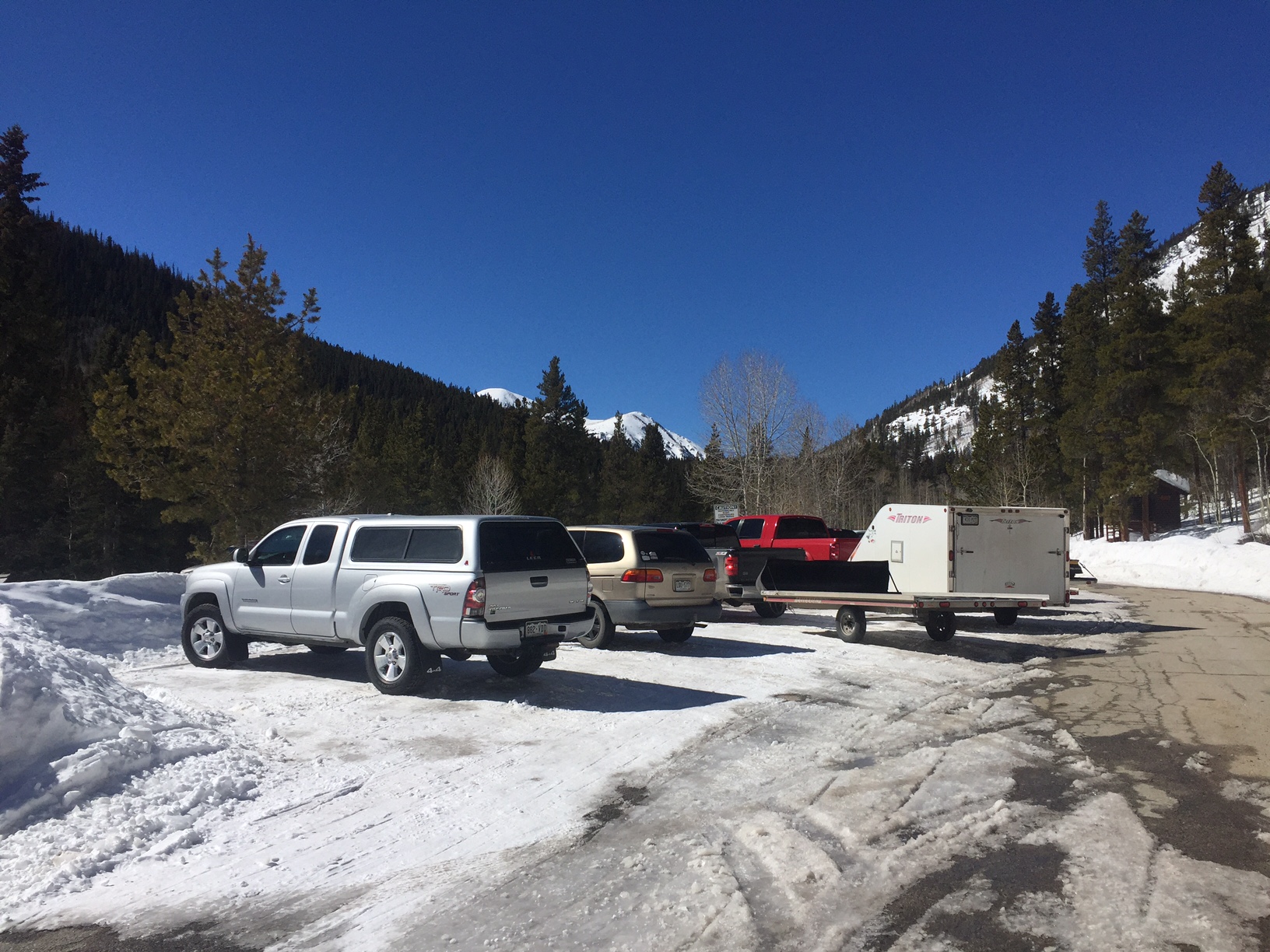 Route Info
The beginning of this route starts across the parking lot, just over the snowbank.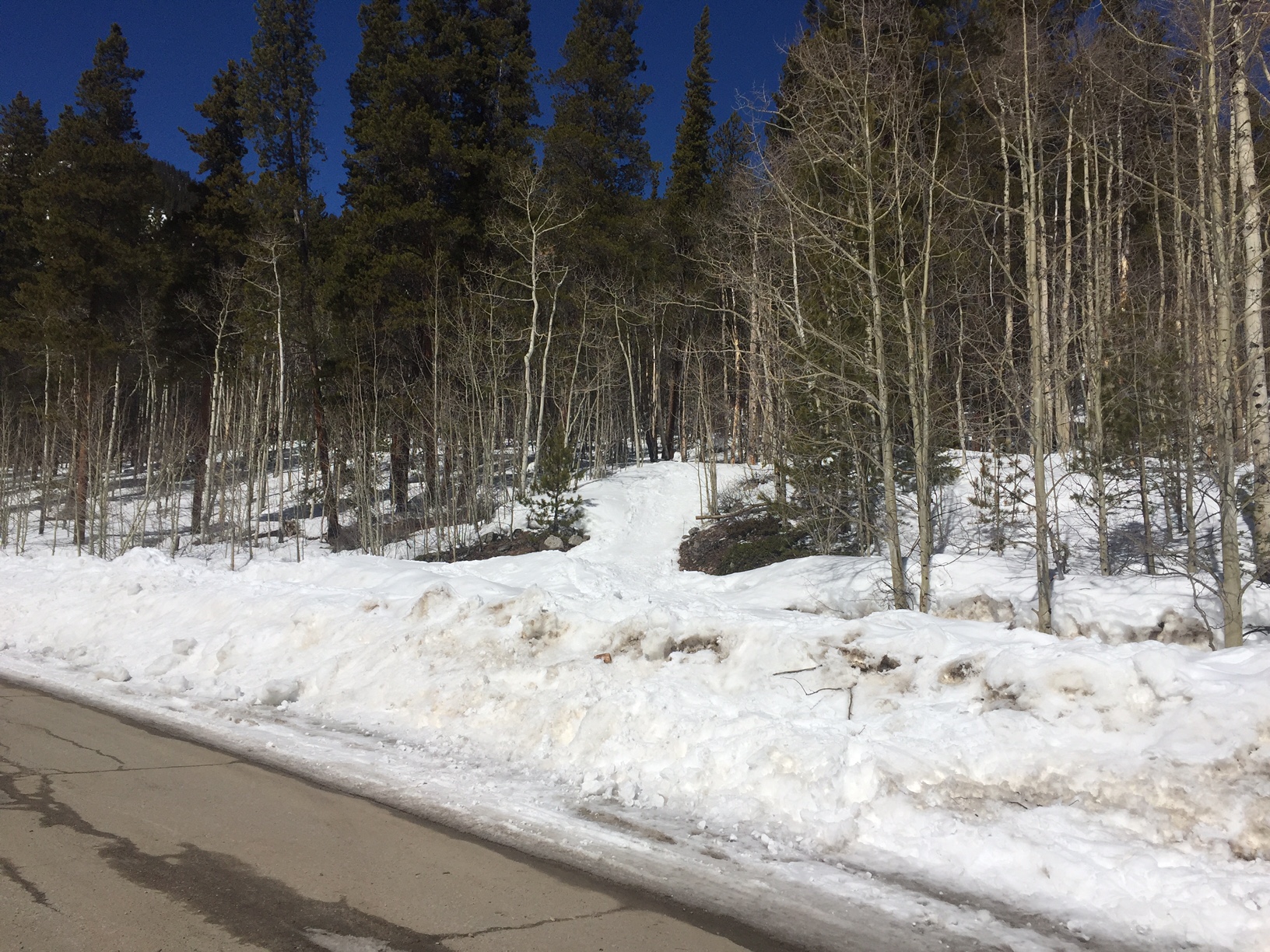 You'll see these signs with info about the local trails and Mount Yale: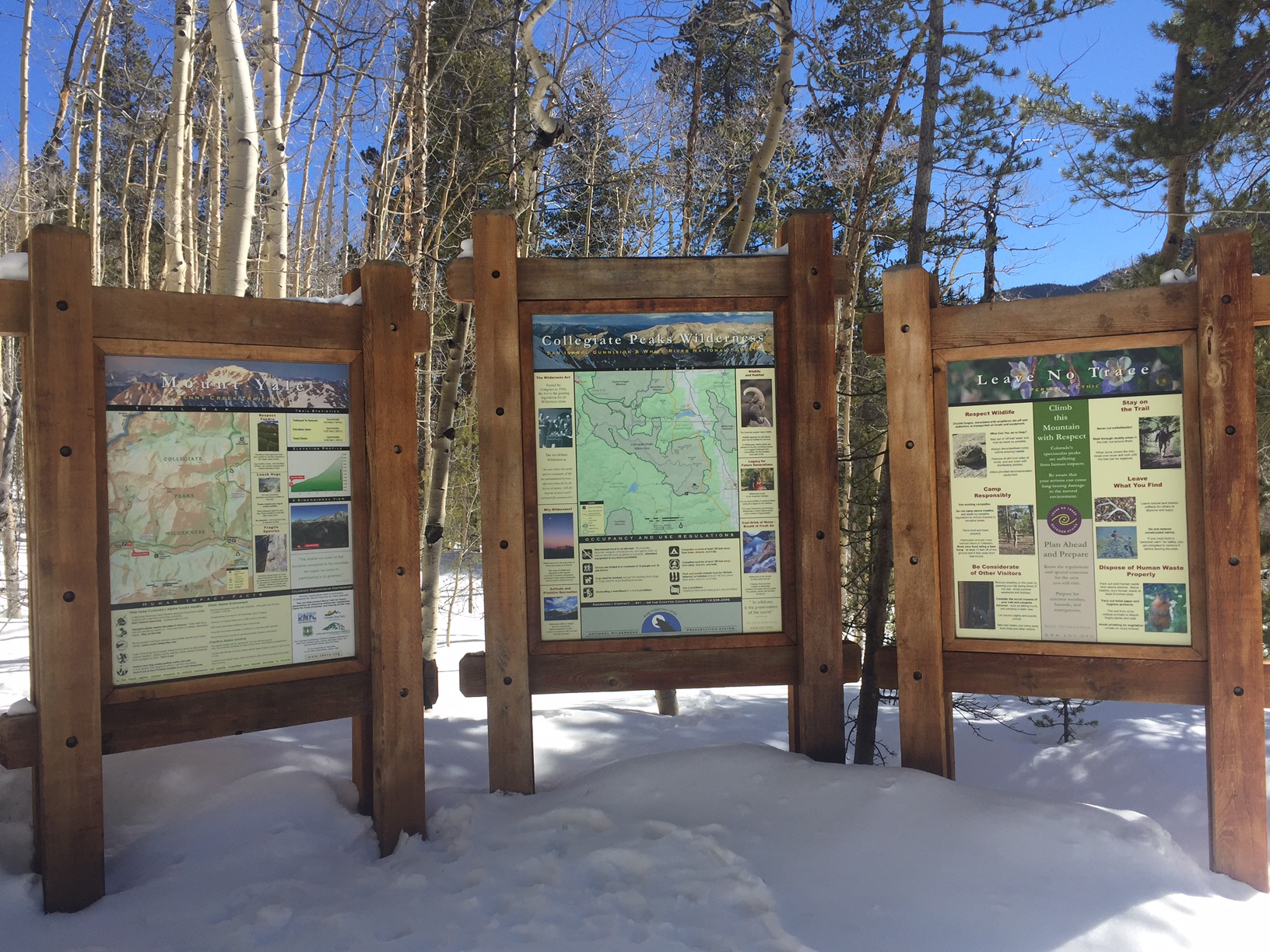 To get started, just head past the signs to begin on the Denny Creek Trail.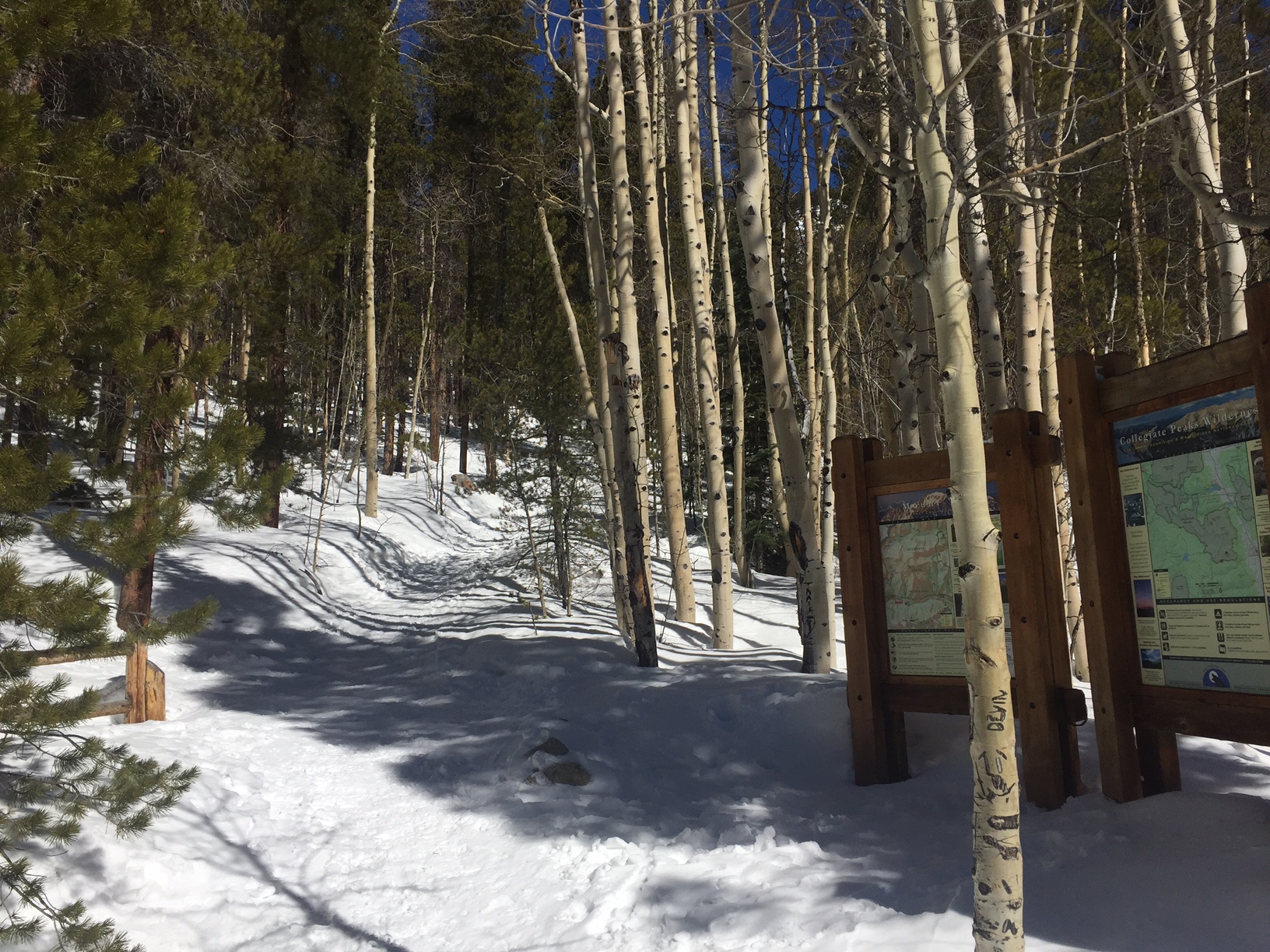 During the first 1.5 miles you'll be mostly traveling through the forest area: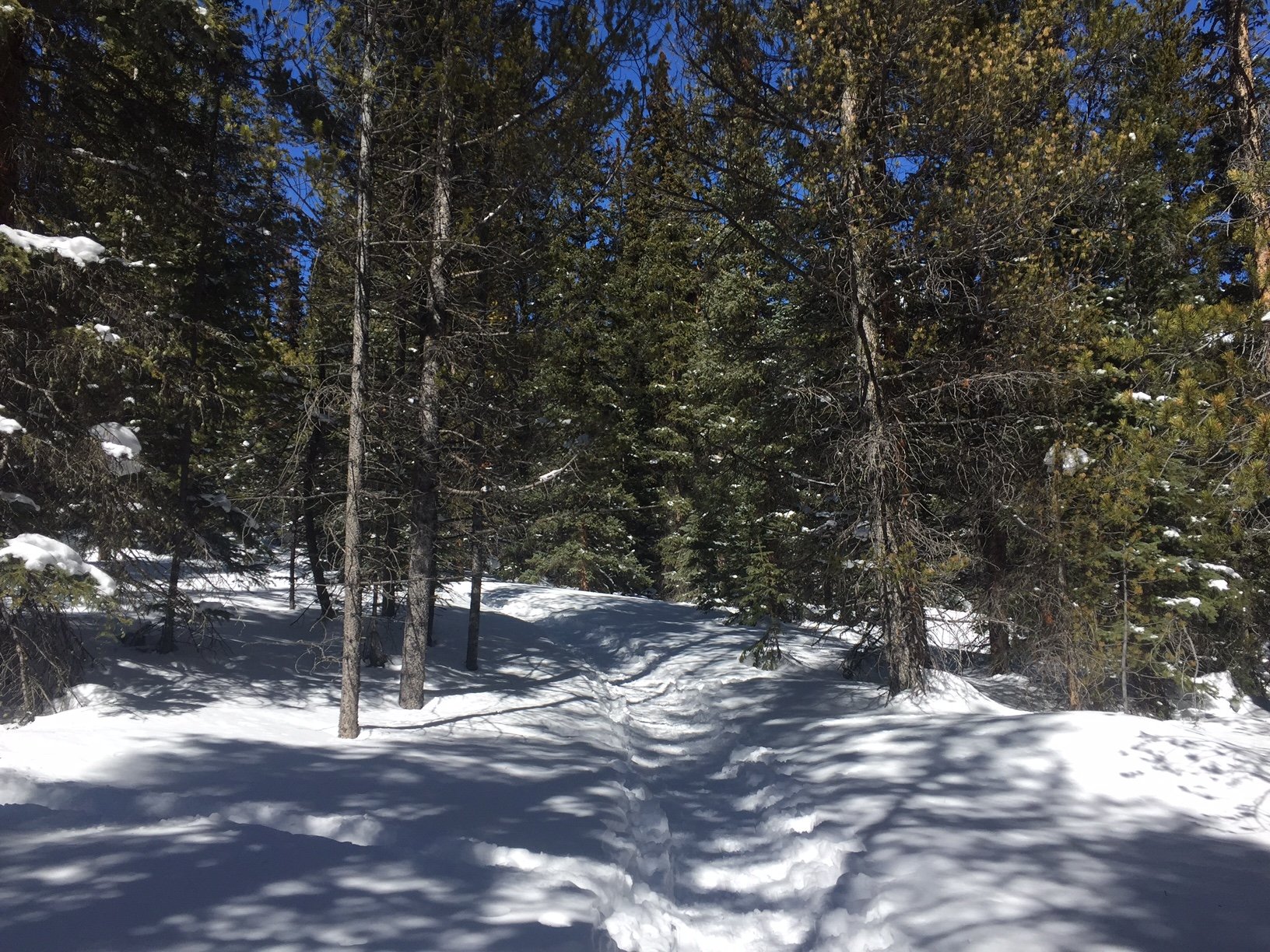 There are many clearings along the way where you can get soak in the mountain landscape.
One you've gone around 1.5 miles, you'll reach a fork in the trail. The left trail goes to Lake Hartenstein and Browns Pass, and the right side goes towards Mount Yale. Unless you're experienced in winter mountaineering and want to climb a 14er, you'll want to stay left and head towards Browns Pass and the lake for a more mild hike.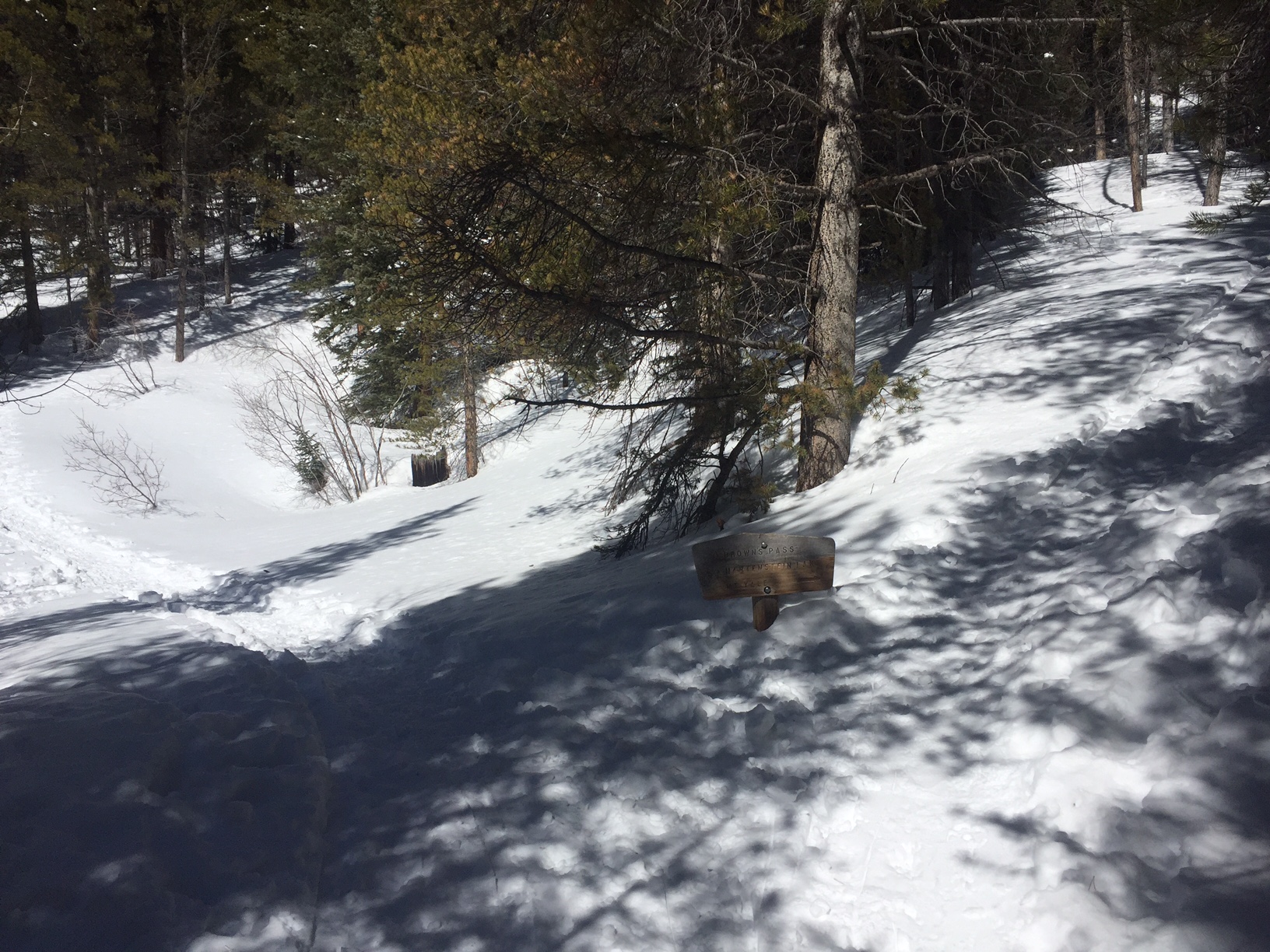 At this point, you'll notice the snow gets a lot deeper and a bit harder to trek through. Right now, the sign that marks the left turnoff to Lake Hartenstein is buried by snow, and the tracks are a bit hard to find. Once you reach a big opening, if you see tracks to veer to the left, you've most likely found the route to Lake Hartenstein. However, if you aren't comfortable with navigation skills, we recommend staying straight and head towards Browns Pass, as that's an easier to navigate option right now.'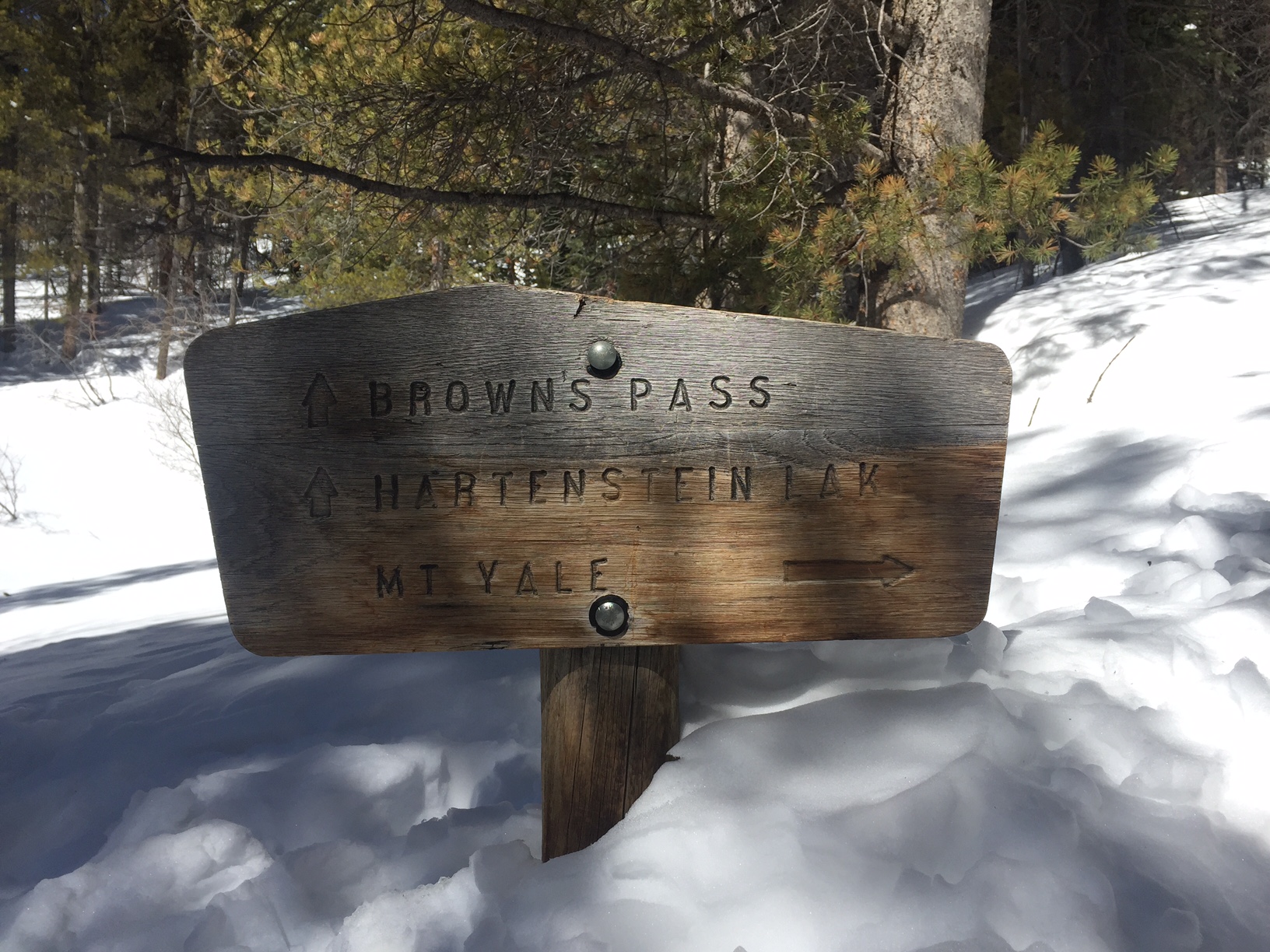 The top of Browns Pass is about 5.9 miles, though, so don't feel like you need to go the whole way if you just want an easy outing. Once you're above tree line, you'll have great 360 degree views of the mountains, and you can turn back at any point.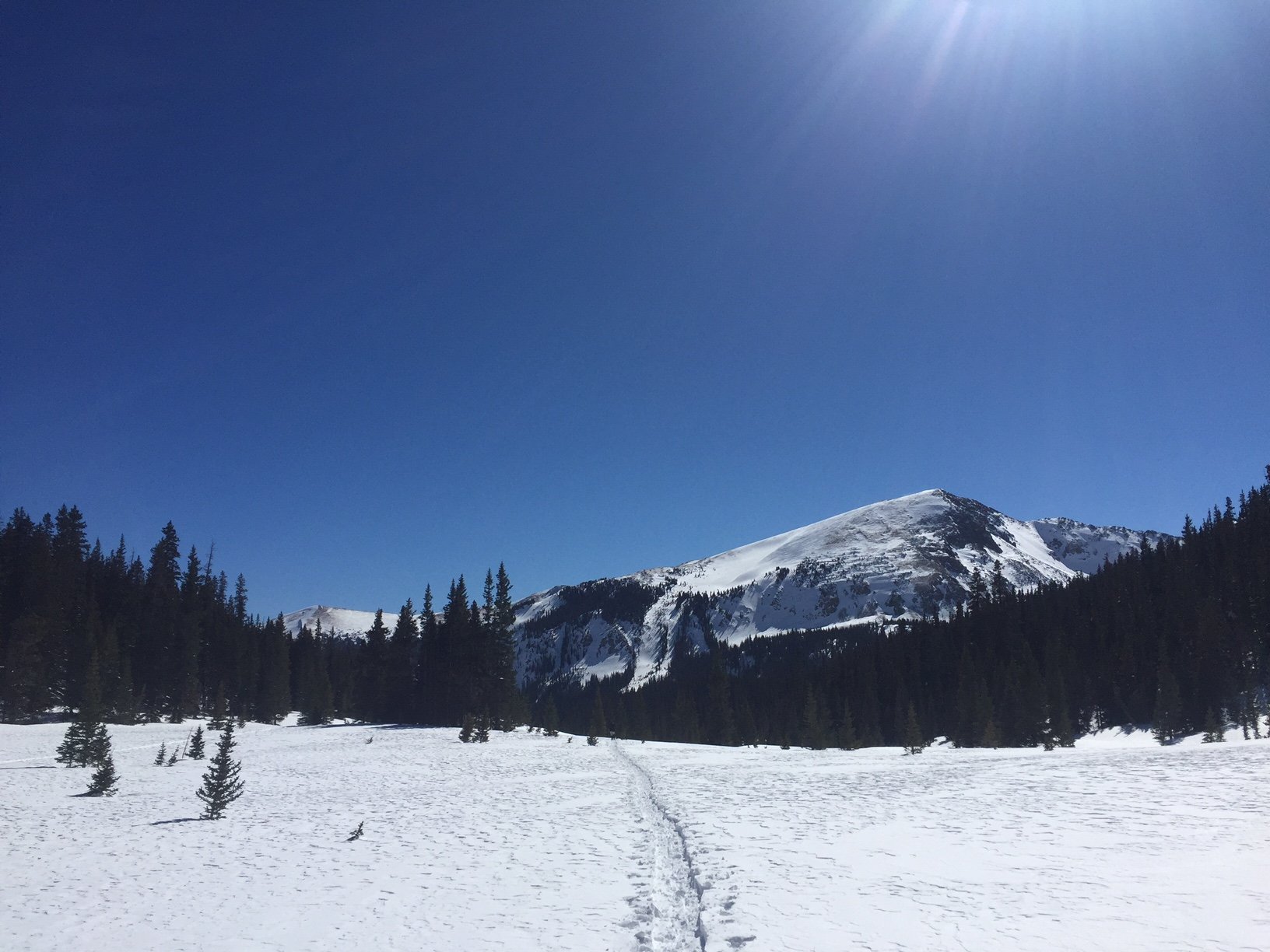 Our friends from the BV Trails Report just recently did this route as well and went up to Brown Pass, and you can view their gorgeous photos on Facebook.
What to Wear
Make sure to wear a lot of breathable layers and bring a hat, gloves, and sunglasses. We wore the Nano Air Light Hybrid jacket, and it worked great, as it blocked a bit of the chill while still offering breathability. And, of course, if you go up past the fork, you'll need to bring snowshoes or rent some from our shop, or else you're going to be sinking all the way up. If you aren't going more than the first 1.5 miles, good trail running shoes or adding some spikes to your shoes (i.e. Ice Trekkers) may do the trick, but that will depend on snowfall and weather. We still recommend snowshoes!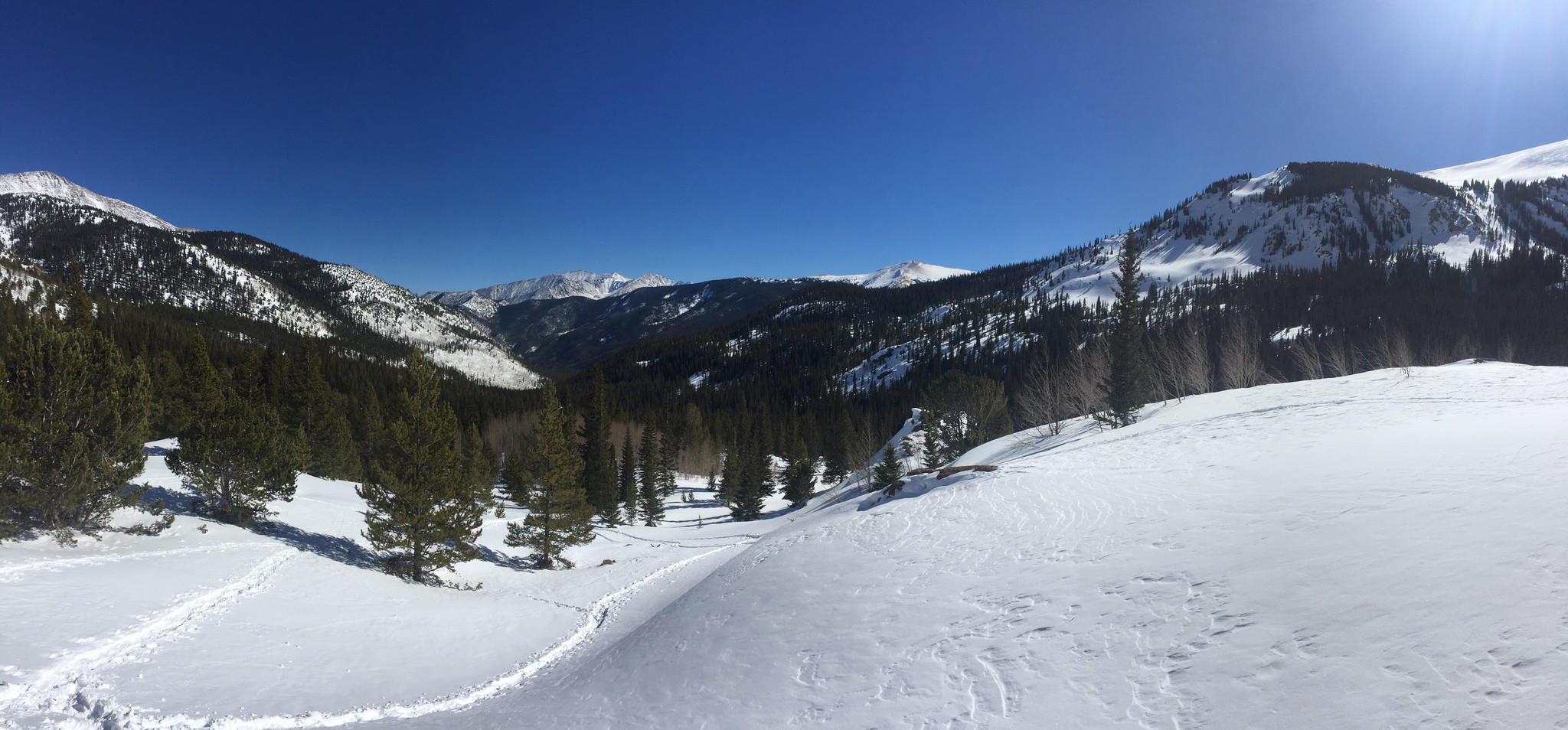 What do you think of Denny Creek? Let us know if you've tried this route too!
 #GoThereStartHere