Where to go, what to bring, and all the insider tips for cross country skiing in Buena Vista, Colorado.
Cross country skiing is a fun and active way to enjoy the snow in Buena Vista, Colorado!  One of our favorite routes is the Collegiate Peaks Campground. While it's used as a camping site in summertime, this campground is groomed in the winter and serves as the perfect ski course.
Once you get there and throw on your skis, you can traverse the main ski loop (maybe even do it multiple times) or glide through the side loops amongst the trees.
The Campground is an awesome location for all skill levels, especially beginners. You don't need any experience to give cross country skiing a try, but if you're a little hesitant to start and want some instruction, we suggest booking a trip with our friends at Buena Vista Mountain Adventures (BVMA). The BVMA guides will show you how it's done and guide you through the course.
We've gotten a lot of snow in the valley recently, so the Collegiate Peaks Campground is fully covered in snow – YAY! The main course/loop is groomed, while the side loops are not. You'll see what we mean when you start skiing and see others' tracks.
Ready to give it a shot? Here are 3 tips for your next cross country skiing excursion: 
#1 Where to Go
Like we said, the Collegiate Peaks Campground is an awesome spot to go, and directions to the Campground are straightforward. From downtown Buena Vista, head through the stoplight, continue west on Highway 306, and travel for about 11 miles. The Collegiate Peaks Campground is on the left side of the road, and you'll see a little roundabout area where the start of the ski area is. Make sure you're paying attention once you're close to 11 miles, as the area can be easily missed due to snow covering the sign.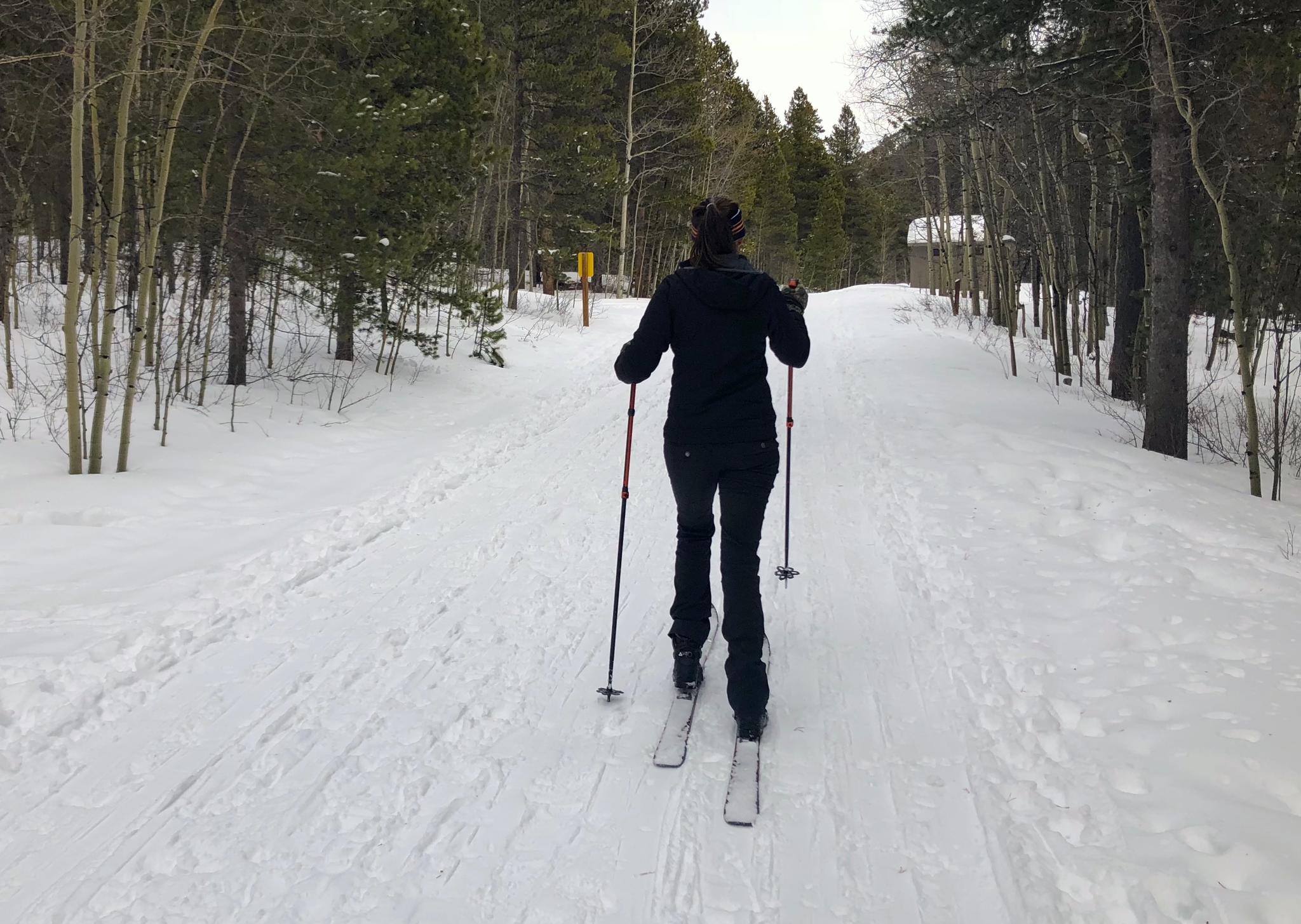 #2 What to Wear & Bring
This is a big preference thing, but we suggest lots of layers! Soft shells are going to be your best friend while cross-country skiing because you'll work up a sweat (much like how you feel when jogging; cold when you first leave the house, but then you warm up FAST when you get moving).
When we went, we wore leggings and soft shell pants for our bottom layers, and on top we used Patagonia R1 pullovers and the Patagonia Nano Air Hoodies. We also used soft shell gloves, wool socks, a headband (beanies also work well!), and Smith Chromapop sunglasses. If you need some items for your cross-country skiing adventure, just swing by The Trailhead, and our staff will suit you up.
We also suggest bringing water and a snack; cross country skiing is a good workout, and these two items will be invaluable, even if you leave them in your car to have right after you're done skiing. 
#3 What Gear You Need
If you don't own XC skis, poles, and boots, that's not a problem! The Trailhead has a rental program where you can rent the full kit. You'll just swing by the shop the morning of (or night before!) your skiing adventure. Our staff will fit you for skis and boots and give you a set of poles to use. They'll also give a basic overview of how to use the gear. Click here to learn more about renting gear.

Questions?
If you have ANY questions, leave a comment below, email us, or DM us on Instagram or Facebook. Make sure to tag us in your pictures if you go cross country skiing – we may just repost them! #GoThereStartHere